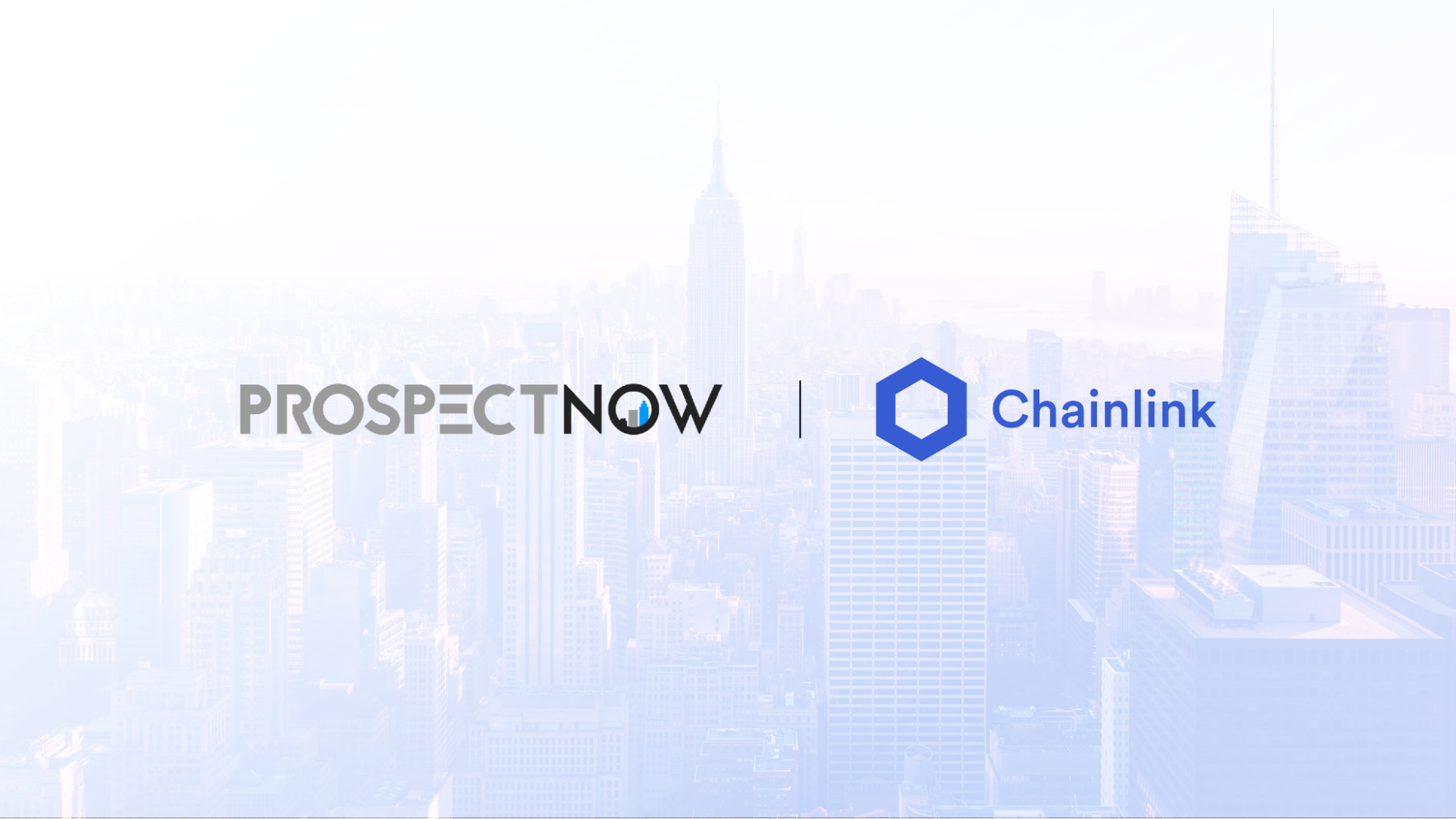 ProspectNow is pleased to announce that our Chainlink node is live and fully operational on mainnet, bringing our premium real estate market data into leading blockchain networks. Developers can now call our Chainlink node to get real-time predictive analytics data about residential and commercial real estate markets, including aggregate property and square footage prices within specific geographies. Using our data, smart contract developers can build new blockchain applications across decentralized finance (DeFi), insurance, and NFTs, such as tokenizing real estate and using it as on-chain collateral or creating derivatives markets based on future real estate prices in a specific city.

If you are a developer, check out the documentation to learn how to call our Chainlink node. You can retrieve the square footage price at the same zip code that we retrieved an AVM for at ProspectNow:
https://docs.chain.link/docs/prospectnow-data-oracle/.

We selected Chainlink because it's the most time-tested and widely used oracle solution, containing a growing data marketplace for smart contract developers to access traditional APIs. The Chainlink node was a very straightforward integration, taking minimal time and effort to get our existing APIs compatible with leading blockchains.
Through the Chainlink node, we can now seamlessly expand our data in emerging blockchain-base markets like DeFi, as well as cryptographically sign our data to prove it originated from the ProspectNow API. For a more detailed analysis on why we chose to get our APIs blockchain-enabled with Chainlink, read our previous announcement.



ProspectNow offers detailed information for every property on record in the United States, including over 100 million residential properties and 42 million commercial properties across all 50 states. We aggregate and clean real estate market data derived from a trusted network of public, private, and internal datasets. Our services include predictive analytics for residential and commercial properties, ultimately enhancing the abilities of lenders and real estate agents to make data-informed decisions.

We are excited to join the Chainlink Network as an official node operator. We look forward to supporting the emerging blockchain-based products and markets for the real estate industry by providing smart contract developers access to important industry data like property prices and market trends. 

"We're thrilled to have launched our Chainlink node on mainnet in a short amount of time, accelerating development of next generation real estate applications on blockchains," stated  Steve Wayne, CEO of ProspectNow. "With our Chainlink node, we now have a future-proof gateway to sell our data to projects across different blockchains, both expanding our addressable market as a data provider and empowering our support of future real estate developments."

About Chainlink
Chainlink is the industry standard oracle network for powering hybrid smart contracts. Chainlink Decentralized Oracle Networks provide developers with the largest collection of high-quality data sources and secure off-chain computations to expand the capabilities of smart contracts on any blockchain. Managed by a global, decentralized community, Chainlink currently secures billions of dollars in value for smart contracts across decentralized finance (DeFi), insurance, gaming, and other major industries.

Chainlink is trusted by hundreds of organizations, from global enterprises to projects at the forefront of the blockchain economy, to deliver definitive truth via secure, reliable oracle networks. To learn more about Chainlink, visit chain.link, subscribe to the Chainlink newsletter, and follow @chainlink on Twitter. To understand the full vision of the Chainlink Network, read the Chainlink 2.0 whitepaper.

Solutions | Docs | Discord | Reddit | YouTube | Telegram | GitHub 

About ProspectNow
Based on the belief that better data and insights can accelerate any business, ProspectNow is a set of powerful systems and tools for extracting value from massive amounts of real estate data through machine learning.

We build applications that combine the most complete property data archive in the industry with proprietary ranking algorithms that curate a comprehensive library of new opportunities based on your criteria.

ProspectNow is utilized by over 2000 companies across the United States for their real estate data needs.  Follow us on LinkedIn and Twitter!